My Cultural Year of Service
A Volunteer Reports on Her Experience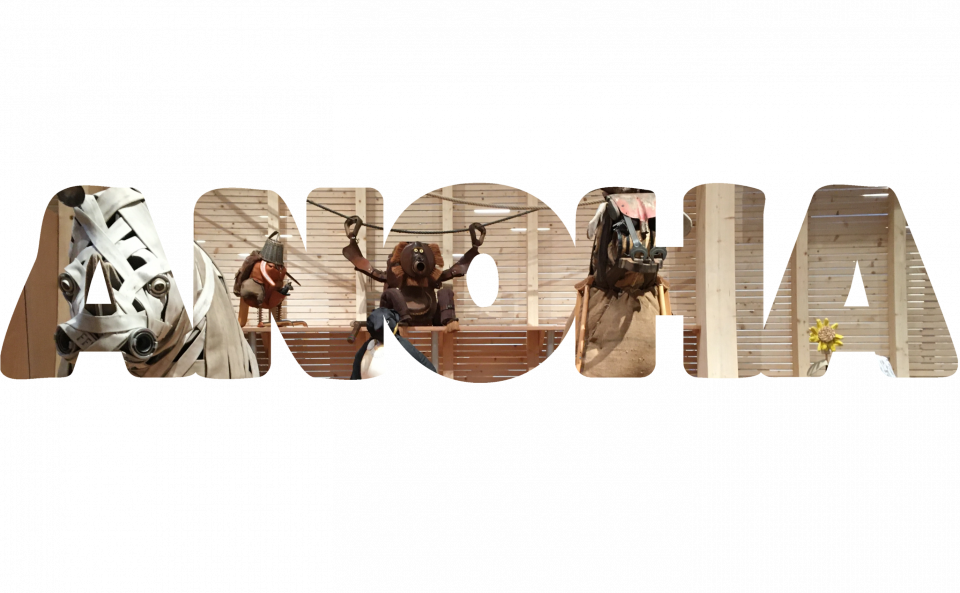 Jewish Museum Berlin, photo: Yves Sucksdorff, graphic: Alice Hoins
Hi, I'm Alice. I completed my Cultural Year of Service (Freiwilliges Soziales Jahr Kultur, or FSJ Kultur for short) at the Jewish Museum Berlin (JMB), specifically at their children's museum (ANOHA) and library. When I started off my year of service, I really didn't know what to expect. Which is why I am writing this now for the benefit of future FSJ Kultur applicants as well as for any readers interested in the JMB and ANOHA.
What is a Cultural Year of Service?
In a Cultural Year of Service (FSJ Kultur), you volunteer at a cultural institution for one year. In Berlin, it's the State League of Cultural Youth Education (the Landesvereinigung Kulturelle Jugendbildung, or LKJ) that oversees your service. Besides at a cultural institution, you complete five educational and informational seminars with the LKJ and take part in a workshop of your choice. You work 39 hours and receive a stipend of 360 euros. The 26 vacation days feel like more than that even though it is less time off than in school.
Welcome to the

JMB
I received a very warm welcome from my contact at the HR department. Together with the other FSJers and participants in the Austrian Gedenkdienst (Holocaust Memorial Service), we discussed our contracts and the basics of the JMB, things like tracking our time, how the keys work, and how vacations are organized. Then everyone went to their departments. Anne (the other FSJer on the ANOHA team) and I were greeted by our supervisors at the children's museum office. We had a little introductory meeting and received our schedule for the first week. We got to spend the rest of the day exploring the museum and setting up our workstations.
Orientation Period and Getting into a Routine
At first, my supervisor Nadja spent a lot of time walking me through things and I completed several smaller tasks on my own. That included preparing meetings and conducting research. But the longer I'd been there, the more extensive and complex my tasks became. For example, I helped prepare and helped with the training sessions for our ANOHIs (ANOHA staff members, also known as communicators); handed out materials such as paper, pens, and iPads; and assisted with photo and film shoots.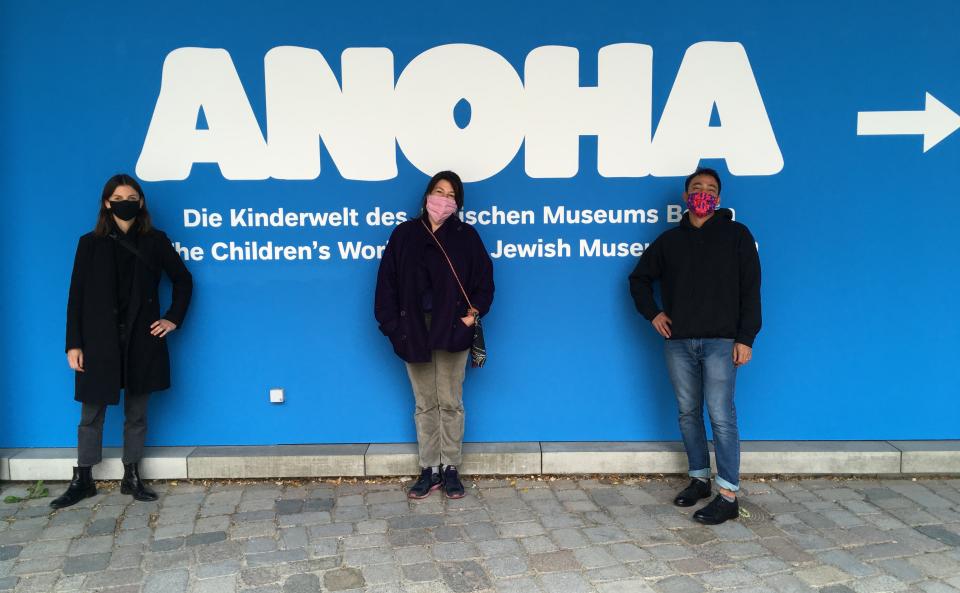 Jewish Museum Berlin, photo: Alice Hoins
When I first met my colleagues, the ANOHIs, I took this photo of them outside the children's museum.
After six months, I started working at the library as well. There, I coordinated a project of my own that also involved other colleagues.
The Other Volunteers
A total of five FSJers and three members of the Holocaust Memorial Service worked at the JMB from 2020 to 2021. There were two of us in my department, the children's museum (also known as ANOHA). That was very nice because it meant we could divide up the tasks or do them together. I also appreciated having another person my age on the team. I was overseen by one colleague in the team and by the HR department. But the other colleagues were always very helpful too. I had a meeting every week with my supervisor Nadja where I could discuss any concerns or issues as well as my upcoming tasks.
And Then the Covid Lockdown
Unfortunately I had to work remotely from home starting in November 2020, but I still had plenty of contact with my colleagues on the team and my meetings with Nadja continued (via Zoom, of course). Not that much changed apart from the everyday chats here and there in the office. Still, I did have periods of being less motivated, simply because I was working alone at home and also couldn't maintain my private social life very well either. So I was very happy when I was able to go back into the office now and then, but it was also good that I was now able to work from home if there was bad weather.
Due to Covid, the LKJ​'s educational seminars were unfortunately via Zoom. However, I do think the LKJ found a good digital format for the seminars. For my last seminar, I did have one in-person day when I got to meet FSJers who were serving at other institutions.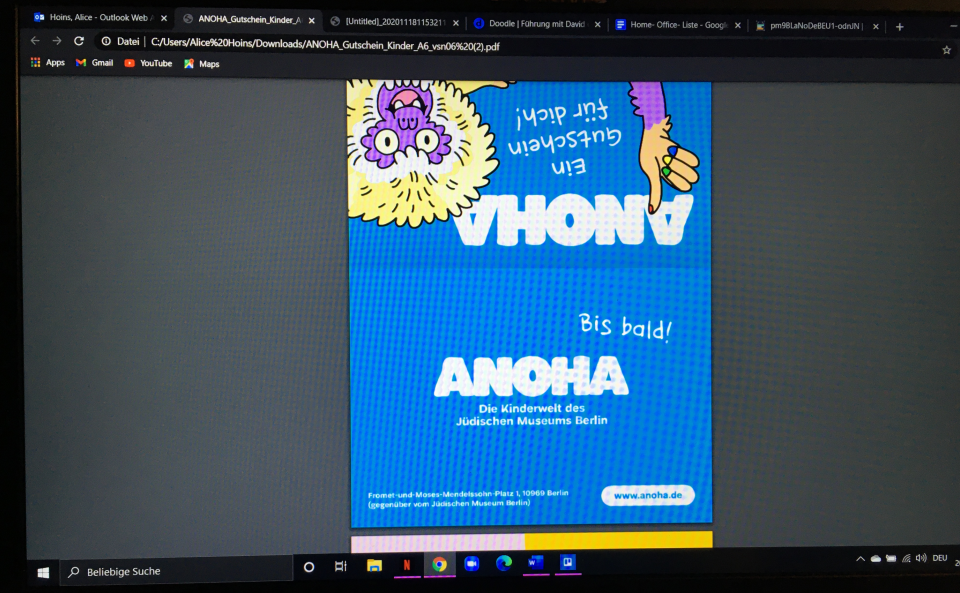 Jewish Museum Berlin, photo: Alice Hoins
While working from home, I looked at draft designs for an ANOHA flyer. We later discussed them as a team and selected one.
My Own Project
The FSJ Kultur program also includes working on a project independently. A volunteer can choose to do the project alone or in a team of two or five. FSJ volunteers working at different institutions can even collaborate on them. For example, my project is the text that you are reading now. Two other FSJ volunteers at the JMB are developing an audiobook. So there are many options.
Stand-Out Fun and Memorable Moments
I had many experiences during my year of volunteering at the JMB. A few moments stick out particularly in my mind:
With my boss, I showed German environmental activist Luisa Neubauer around the children's museum.
Via Zoom, I got to know an eyewitness to history from the Second World War and the book she wrote.
I took pictures from the roof of the wooden Ark.
I took a seminar about scholarly learning at a university.
The feeling of walking through a dark, deserted museum.