Accessibility at

ANOHA
Info for your visit to the Children's World
Before deciding to visit the ANOHA Children's World, you might have a few questions. Will I be able to go everywhere in the Children's World? Are there stations I can explore with my hands, my eyes or with my ears? This page provides information about accessibility. If you have more questions, you can check with us about them before you come. You can also ask our pedagogically trained ANOHIS during your visit. The ANOHIs all wear light blue vests and will introduce themselves by name.
Jump directly to one of the following topics:
Getting to ANOHA / Disability Parking / Accessible Bathrooms / Limited Mobility / Hands-on / Guide Dogs / Contact
Getting to
ANOHA
Address
The entrance to ANOHA is on the right side of the big Academy building on the plaza. You can recognize it by its blue walls and the big ANOHA lettering.
ANOHA: The Children's World of the Jewish Museum Berlin
Fromet-und-Moses-Mendelssohnplatz 1
10969 Berlin
Metro stations and bus stops
You can reach ANOHA by U‑Bahn (subway/​underground/​metro) or by bus.
U‑Bahn
U

1

, U

3

, U

6

: Hallesches Tor U‑Bahn station
U

6

: Kochstraße/​Checkpoint Charlie U‑Bahn station
Bus
248

: Jüdisches Museum Berlin stop
M

29

: Lindenstraße/​Ecke Oranienstraße stop
M

41

: Zossener Brücke stop
Are there accessible parking spots for visitors with disabilities?
If you and your family come to ANOHA by car, you'll find two accessible parking spots at Markgrafenstraße 87. To use one of these parking spaces, you'll need a disability parking permit (Parkausweis für Schwerbehinderte). Please place it visibly under the windshield.
Wheelchair-accessible bathrooms
There is a wheelchair-accessible bathroom near the entrance in ANOHA. You'll recognize it by the wheelchair symbol. If you don't know where the accessible bathroom is in the Children's World, you can ask one of our ANOHIs. You can recognize them by their blue vests.
Experience the Children's World
with all of your senses!
Moving around

ANOHA
All of ANOHA is reachable without climbing stairs. Several of the stations have climbing elements, however, making them inaccessible. In the Children's World, you will need non-slip socks. Do you have special shoes, a walker, or anything else you require to move around? Of course you are welcome to bring them with you into ANOHA. Your assistance dog may also accompany you.
Wheelchairs
You can navigate all of ANOHA in a wheelchair. Most areas can be reached via inclines. Not all play elements are accessible to wheelchair users, however, because some are for climbing on.
Strollers and carriages
Strollers and baby carriages must be parked at the coat check. Special needs strollers can be brought with into the exhibition.
Seating
Inside ANOHA, there are many places where you are welcome to sit down and rest.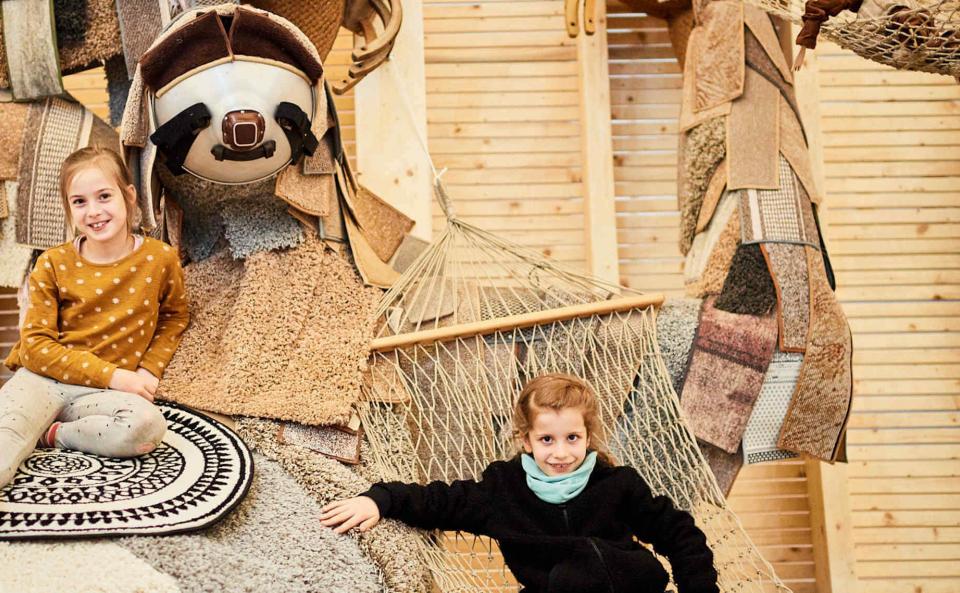 Jewish Museum Berlin, photo: Yves Sucksdorff
Take a break in a hammock or on the sloth.
ANOHA

, hands-on

Along with more than 150 animal sculptures, many stations await you in our Children's World – places where you are welcome to play an active role.
Experience Noah's Flood with all your senses! Hear the rain drumming down! Watch the water rising!
Are the animals on the Ark hungry? Together with other children, you can prepare food for the animals at the feeding station.
The mammoth's fur is thin. Would you like to take care of the mammoth?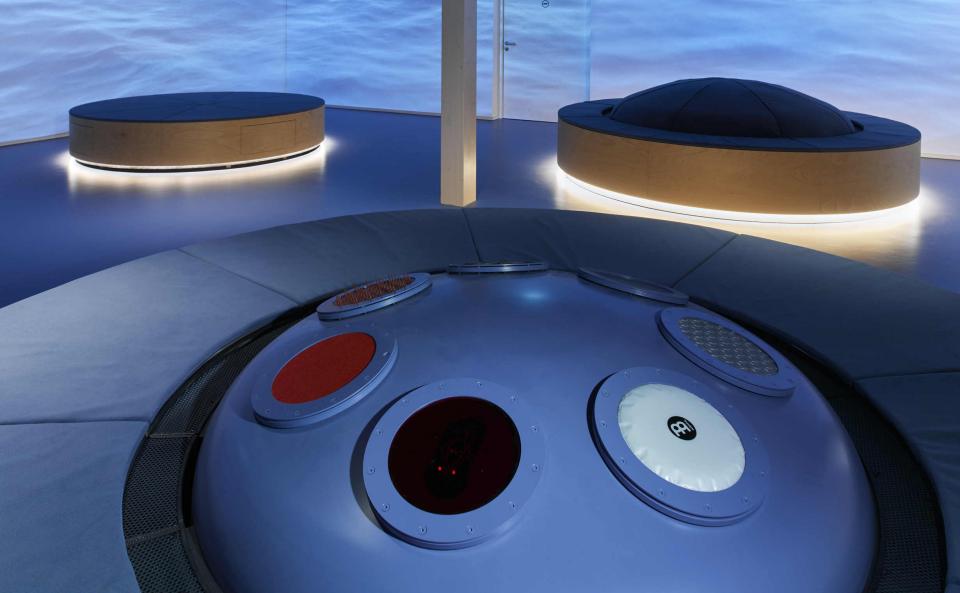 Jewish Museum Berlin, photo: Yves Sucksdorff
Compose a flood concert using water sounds.
ANOHA

with a guide dog

If you have a guide dog, you can bring it with you into ANOHA.
ANOHA

– easy to understand

At ANOHA, there aren't any long texts on the walls. Our ANOHIs – the people wearing the blue vests – are happy to explain what you can do here. But you are also welcome to try the stations out for yourself or ask other children.

We offer tours and workshops in simple, approachable language. If you would like to schedule a tour or workshop in simple and understandable language, send an email to visit@​anoha.​de. We will check to see if there are guides available who can lead a simple-language or easy-to-understand event, and then we will schedule a time with you.
Contact
If you have more questions before your visit to ANOHA, you or a family member are welcome to contact us. We are happy to help you.
Tel.: +49(0)30259 93 300
Email: besucherservice@​jmberlin.​de
During your visit, you can speak to the ANOHIs in German or English at any time. You can recognize them by their blue vests.