Group visit
Primary school groups
90 minutes
ANOHA

for afterschool groups
A visit to the sto­ry of Noah's Ark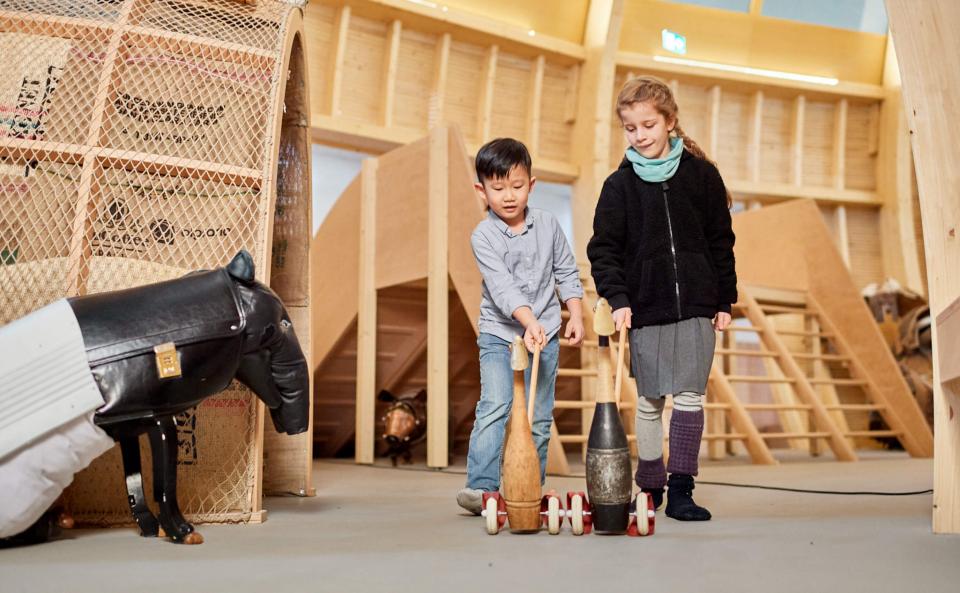 Jewish Muse­um Ber­lin, photo: Yves Sucksdorff
On this visit, grade-school-aged groups delve into the story of Noah's Ark and walk through the areas of the Children's World together. They experience how raindrops turn into a big flood. On our water testing basin, they can try out little arks. Then they go to the big wooden Ark. Some animals aren't on board yet: the polar bear needs help. Who will push it onto the ark? The orangutan can carry small animals on its lap. Who should it take first? Many more animals are waiting to get to know the children on the ark. Next, the group discusses questions together: How do we want to spend our time on the Ark? What comes after the flood? How can each one of us make the earth a little bit better?
ANOHIs supervise visiting groups in all areas of the exhibition. The children can play freely, ask questions and make up stories together.
Group visit
Primary school groups
90 minutes
Age/grade level
6 to 12 years, grades 1–6
Number of participants
Maximum 15 children + 2 chaperones
Location
ANOHA foyer
Note
Larger groups will be divided into smaller sections, then led through the exhibition with 15 minutes between each group.
Registration
Reservations available Tuesdays through Fridays during the Berlin school holidays. Last-minute bookings are not possible due to high demand.