Our Approach
Information for education professionals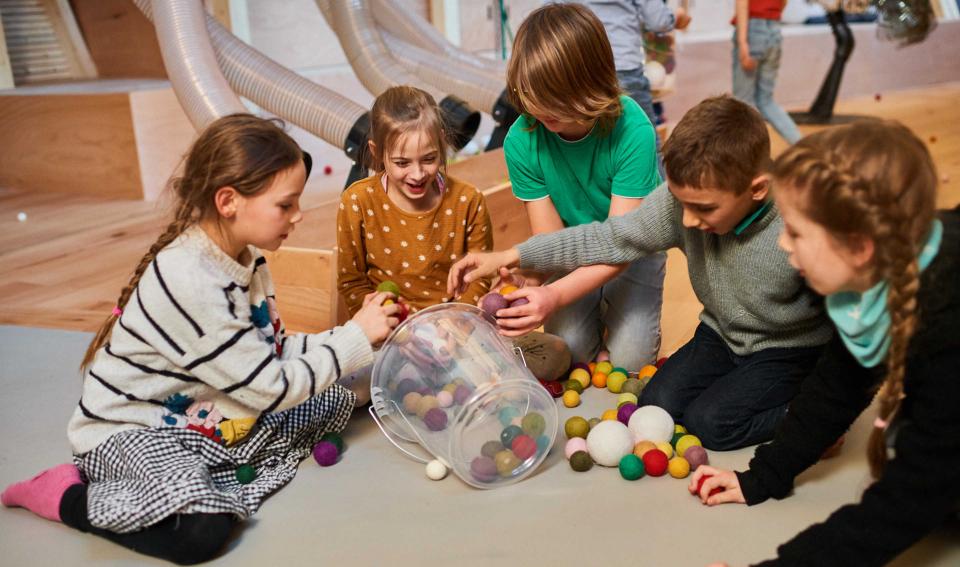 Jewish Museum Berlin, photo: Yves Sucksdorff
The Children's World ANOHA is a place that children and their accompanying adults explore at whatever level is appropriate to their age and needs. By interacting with the exhibition in an active, playful way, visitors help shape the exhibition and become part of it.
Immersion – Dive into the Story
ANOHA is much more than a children's museum. Visiting ANOHA is like visiting a story: the story of Noah's Ark. This kind of communication is known as immersion – which basically means diving in. It's like opening a book, reading it (aloud), and having the parts of the story suddenly take form: words become raindrops, sentences become the Flood. That's why there aren't any long explanations on the walls of ANOHA. We think that that's only fair because some of our visitors can't read.
ANOHA

and our ANOHIs

There's a lot to experience and explore at ANOHA. Since that's our name, ANOHIs are the people who help families and children at the museum throughout our opening hours. They are educationally trained, wear light-blue vests, and always tell visitors their name when they talk to them. At the moment, we all have to follow public health rules. That's why an ANOHI accompanies you on the way through the story. However, you may still play freely – always within one area at a time. If you want to hear a story, sing a song, or play a game, they are welcome to do it with the ANOHIs. They are happy to answer questions, meet new people to play with, and sometimes they ask a question or two themselves. Doesn't the great Flood make you think about stopping climate change? And how do such different creatures really manage to get along on the ark? The ANOHIs don't just tell the story of Noah, they can also tell visitors about cats or spiders, or other big floods, for example.
Hands-On – Minds-On
The hands-on minds-on approach invites children to touch, sense, explore, listen, and try out the objects and installations. This makes the visit to ANOHA not just an intellectual experience, but also an aesthetic and emotional one. The international association of children in museums also takes its name from this approach. ANOHA is a proud member of Hands On! International Association of Children in Museums.
Early Excellence
ANOHA uses the Early Excellence pedagogical approach to develop programs for families with young children that are close to these families' lives and experiences. The Children's Museum focuses on systematically supporting children's education and development. The exhibition and programs are designed to view education through play as an active, sensory, and social process that children control and determine themselves.
Diversity-Conscious, Discrimination-Critical
The staff of the children's museum follow a diversity-conscious, discrimination-critical approach to education. We understand inclusion as an ongoing process that is responsive to the various experiences and needs of all visitors. Beginning with the construction phase of ANOHA, we asked our visitors what they wanted. Through this participatory approach, we have been working to dismantle barriers in programming development and communications processes. We continually engage critically with factors that complicate or prevent social and cultural participation.
Protecting Children
ANOHA is a place where children feel safe and at home, that inspires their imagination, and that challenges them. In this safe space, values and individual abilities necessary to envision and create a better world can be learned and experienced.
The ANOHA team strives to offer children stimulation, esteem, and well-being. Through our various offerings, children can discover and test their strengths and abilities. ANOHA is a creative space of freedom and safety for young people, where joy can be expressed and holistic learning and action can take place.
In order to ensure a safe space for all children, adults without accompanying children can take advantage of a separate program: the ANOHA for Adults tour. We look forward to meeting you and exchanging ideas with you!