Chaperoned visit
Families
120 minutes
ANOHA

for families
A visit to the story of Noah's Ark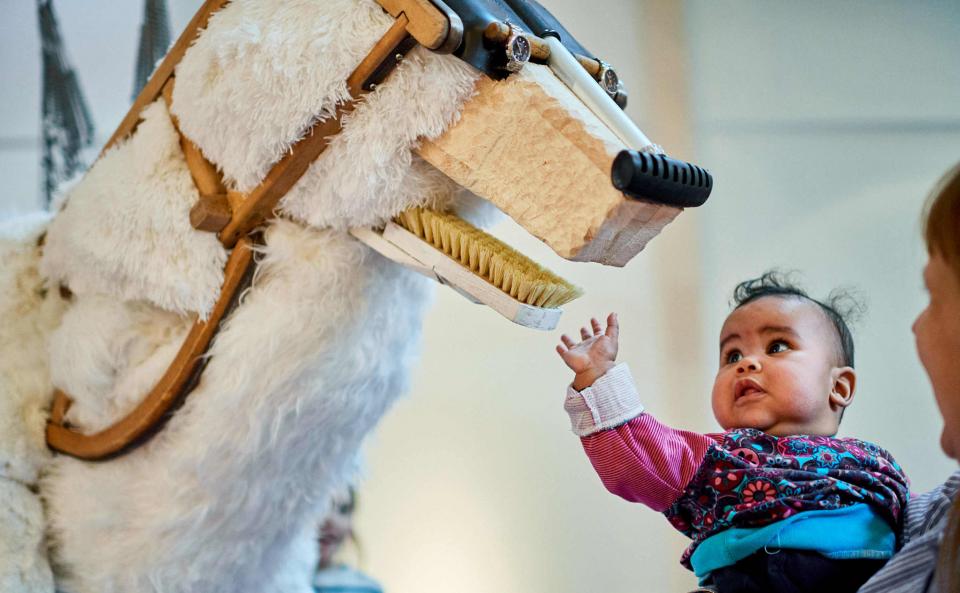 Jewish Museum Berlin, photo: Yves Sucksdorff
Delve into the story of Noah's Ark with your family and discover the areas of the Children's World together. Experience how raindrops turn into a big flood. Do you want to try out little arks on the water testing basin? After that, you can go on the big wooden Ark. Push the polar bear on board together. Help the orangutan save the smaller animals. There are many other animals for you to get to know on the Ark. Ask each other: How do we want to spend our time on the Ark? What should happen after the flood? How can we make the world a little bit better? Then tell us your ideas.
Thanks to public health measures we have put in place, it is possible to visit us during the Covid-19 pandemic. ANOHIs personally accompany all visitor groups through the different areas of the exhibition. In each area, the children can play freely, ask questions, and tell stories together for 15 minutes. Please see our hygiene tips for further information about visiting.
Chaperoned visit
Families
120 minutes
Age/grade level
0 to 120 years
Location
ANOHA foyer
Note
Please take note of the hygiene tips and other information for your visit to ANOHA!
Registration
Please reserve all tickets in advance in our online shop.