Workshop
Children
4 days
Lights, Camera, Action – on Noah's Ark!
Four-Day Spring Break Program for Children Ages
8
to
11
(in German)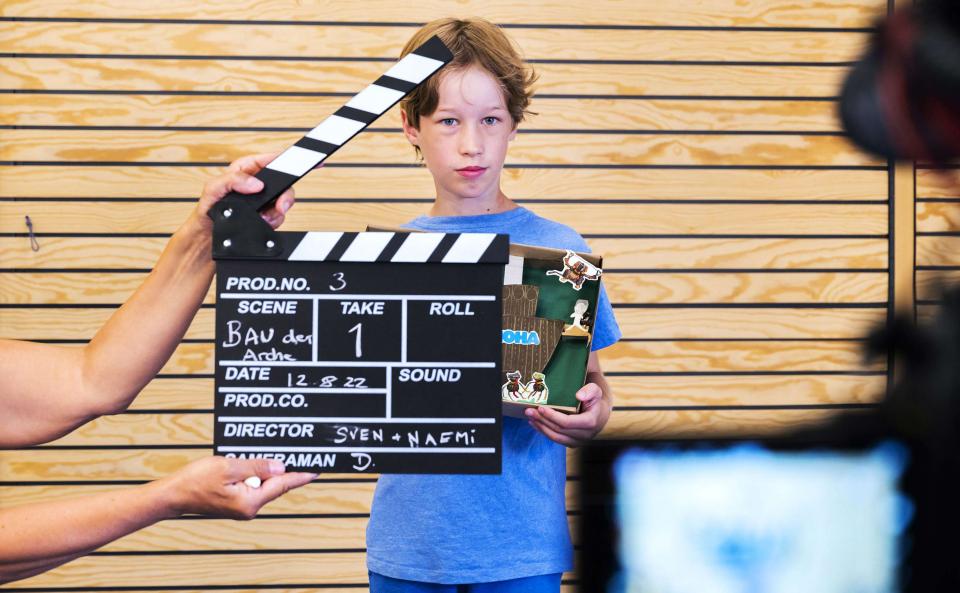 Jewish Museum Berlin, photo: Jule Roehr
At ANOHA, the Children's World of the Jewish Museum Berlin, children can experience the story of Noah's Ark with all their senses. Raindrops turn into puddles, and puddles turn into the Great Flood. Some 150 imaginatively sculpted animals, large and small, have found their way onto the enormous wooden Ark. But how will they all get along?
In this four-day program during the official spring vacation in Berlin schools (coinciding with Passover and Easter), children will learn about a variety of storytelling techniques and be introduced to camera work, acting, and directing. They will create a storyboard, build film sets, and creatively set the scene for the story of Noah's Ark. The program culminates in a film première with a live performance and popcorn for parents and friends.
The spring break workshop offers a varied program with fun and games as well as freshly cooked vegetarian lunch each day.
Day

1

: Eventful immersion in the Noah's Ark story and a visit to a selected area of the new core exhibition at the Jewish Museum Berlin
Day

2

: My turn! Using your voice and body – storytelling techniques
Day

3

: Directing, acting, filming – the story as a film
Day

4

: Make an entrance! Rehearsing, trying things out, and final presentation
Workshop
Children
4 days
Age/grade level
8 to 11 years
Location
ANOHA foyer
Prices
120 euros including lunch
Note
Spring Break Program from 11 to 14 Apr 2023 (Tue-Fri), 9 am to 3.30 pm